So I got 11 out of 24 correct--not too bad if we make it a baseball stat but pretty miserable if we give it a letter grade. I thought Hugh did a decent job (loved when he serenaded Kate Winslet about swimming through excrement for her and Anne Hathaway was very funny as Richard Nixon) and I thought the new format of having a group of previous actress/actor winners present this years winner was rather touching. Overall, though, I was a bit bored. Maybe some year they could skip the presenting of awards and the "I never expected this" speeches. Don't worry too much if you missed it though because like so much of what Hollywood does (whether it be a certain grade of movie or the behaviour of those in it) it was pretty much missable--perhaps I watched too many award shows this year--except for Hugh and maybe Tina Fey and Steve Martin too, oh, and Ben Stiller doing Joaquin Phoenix.
Speaking of missable Hollywood, have you seen "He's Just Not That Into You" yet? I saw it a couple of weeks ago and while I didn't love it (at all--way too many characters that don't get developed nearly enough. They should have limited it to 3 couples. Also to Scarlett's character I would like to say: what kind of a woman purposely pursues a married man and then is shocked when he cheats on her? But the engagement scene with Ben Affleck and Jennifer Aniston was very cute and Ginnifer Goodwin was fantastic). Anyway, speaking of Ginnifer Goodwin, I love her hair. And since seeing the movie I've noticed several other actresses in commercials sporting the style and it makes me want it. Only I've been trying to grow my hair out and I probably couldn't pull it off anyway (I've got thin, straight hair).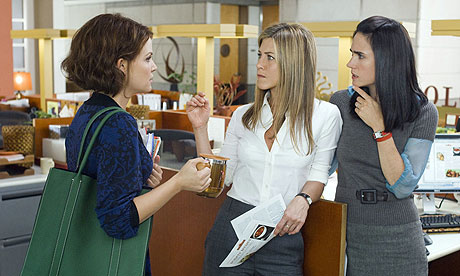 Or here she is with it straightened (I might be able to do this). Bethany, I'll be calling you.